I linked up here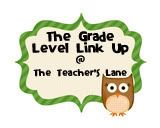 and then decided to take all of the second grade blogs and put them into a sqworl for us... if you're a second grade teacher and your blog isn't listed, post a comment and I'll be sure to add you!
AND don't forget to sign up for the 2nd grade postcard exchange: see
this post
for more info!!
ps: I have to go to new teacher orientation tomorrow... when I originally went in 2007... who knows why I have to go again (not the county office, that's fo sho). But it means that I get to work in my classroom for the rest of the week, so stay tuned for some more freebies and pictures!